2020-2021 Admissions Information

Start date: September 5, 2020 (Saturday), 30-week course throughout the year
Location: Zoom online class (during the epidemic) or Leith Academy High School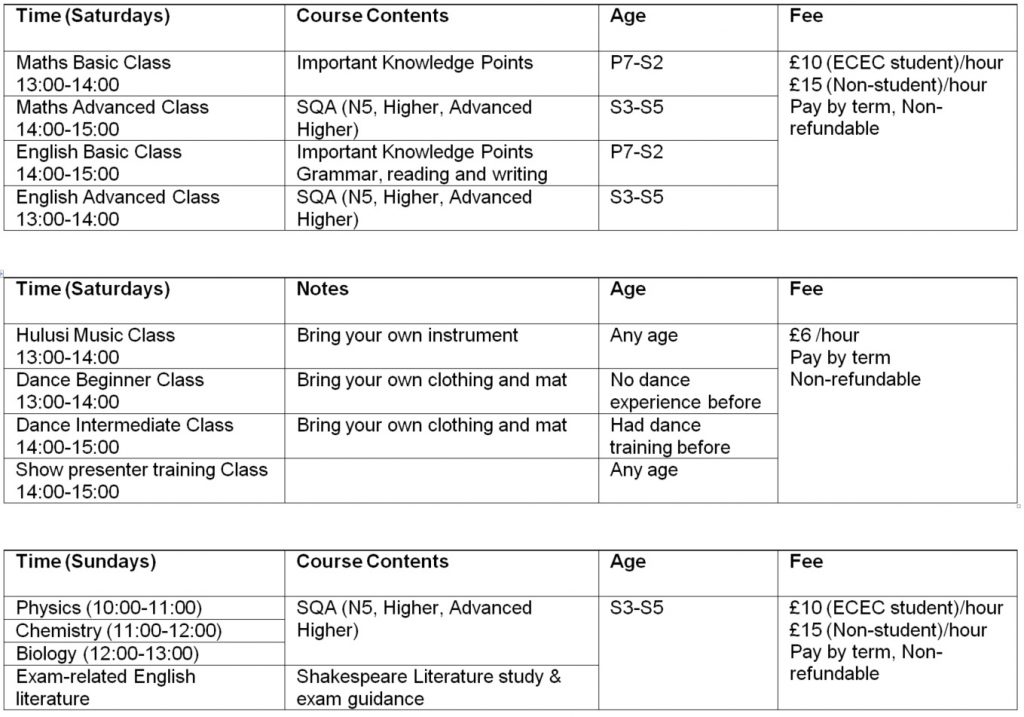 **The number of the classes is about 8 students except Mandarin classes. Class times are guidelines and are subject to possible change.
** All the classes will use the Zoom platform during the epidemic. To ensure a more normal teaching environment, teachers and students will turn on the voice and camera during class. If you have any concern about this, please contact the school. If you do not raise an objection, it will be considered as "agree to use".
SQA Chinese Exam Preparation Class Introduction
Specifically, for S2/S3 students, the textbook uses local Scottish textbooks ""Jìn bù One", "Jìn bù Two", and "GCSE". The class is taught by Teacher Ye Liu /Jin Zhao.  A test is set for every unit in this class, cultivating examination skills and Chinese expression abilities; promoting methods to destress before exams. The goal is to encourage students to complete the N5 exam in advance in S3, prepare for S4 to complete Higher in advance, and S5 to complete the Advanced Higher exam in advance.
 

SQA Chinese Exam Class Introduction
SQA Chinese exam include three levels of National 5, Higher and Advanced Higher. The class is taught by Jin Zhao, a professional teacher with rich teaching experience. Providing teaching services that include exam counselling, exam registration, and exam arrangement.  In the past three years, students in the ECEC Chinese School have performed extremely well in Chinese exams aiding them in their applications to prestigious Universities. They have successfully entered London Politics and Economics, Imperial College London, University of Edinburgh, University of Glasgow, University of St Andrews, etc. The students proudly call this class "Achievers League", sprinting into prestigious schools in an atmosphere of hard work. The school also specially added the following services for examination classes:
Invite graduates to share their application experience and experience in prestigious schools; professionals provide application suggestions
Invite guest speakers to give guidance for students to consider future career plans while applying for their majors
Hire Maths, English and other professional teachers to run tutorial classes to help students to achieve successful applications
Payment information
Account name: ECEC
Sort code: 40-20-54
Account number: 40639885
References: Please indicate the child's full name and course name
The online payment time is from July 22 to August 10, 2020 and a management fee of 20 pounds will apply after August 10, 2020
Contact: Phone: 07380966381, Email: info@ecec.org.uk